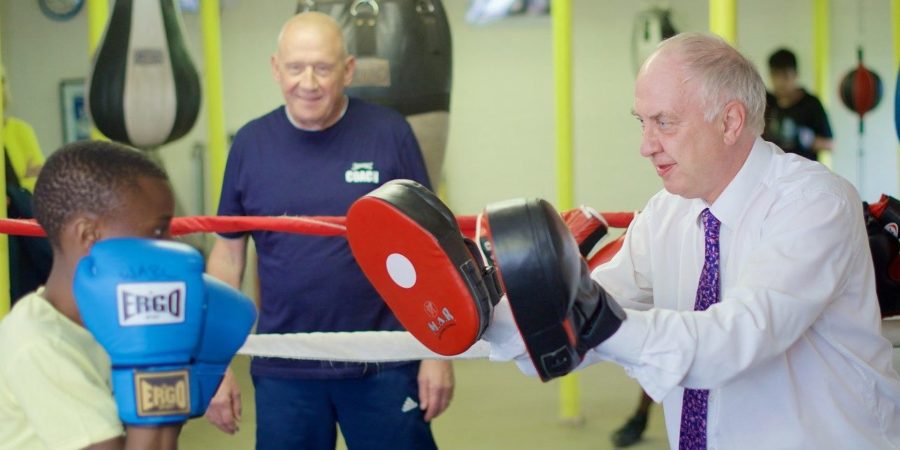 Throughout the summer period, the Police and Crime Commissioner, with the help of a number of community groups and organisations is putting on a whole range of activities for young people including: basketball, football, netball, canoeing, and boxing.
The sessions will include mentoring aimed at reducing violent behaviour and developing confidence and communication skills.
Find out below what is going on in your area.
Birmingham – Summer 2019
Activity
Details
Timings
Location
Birmingham Rockets
Positive basketball opportunity led by experienced and engaging staff. Lunch is provided.
Monday – Friday 9.30am – 4.30pm
Holyhead School, Milestone Ln, Holyhead Rd, Handsworth B21 0HN
Kick Start Academy
High quality school holidays sports activity camps in the West Midlands. Food is provided.
Monday – Friday 10.30am – 3.00pm All 6 weeks
Castle Pool, Farnborough Road, Castle Vale. B35 7EH

Sutton Girls School, Jockey Road, Sutton Coldfield. B73 5PT

Ward End Primary School, Ward End Road. B8 2RA

Yenton School, Chester Road. Birmingham. B24 0ED
Saltley Stallions
16+ Youth engagement Programme: These sessions will be led by a qualified sports coaches, practitioners and approved mentors. Holiday Camp Programme: We have developed and created sport/creative arts holiday camps, which we will be delivering during school holidays.
Tuesday – Friday during school holidays Tuesday – Friday during school holidays
16+ Youth Engagement Programme – Hearlands Academy Gt. Francis St, Birmingham B7 4QR Holiday Camp Programme: Erdington Academy Kingsbury Rd, Birmingham B24 8RE
Aston Villa Kicks
Four-week programme of sport and physical activity, educational workshops, volunteering opportunities and personal development programmes across the Summer Holidays based across Aston Park and Aston Park astro-turf pitch. 8-18 year olds from the Aston area.
Summer Holidays
Villa Park Trinity Road,Birmingham B6 6HE
Birmingham City FC Kicks
Providing sporting opportunities football and multi-sports for young people.
Moseley Health and Fitness centre: younger group 2-4pm Tuesdays and Thursdays, older group 4-6pm The Factory, Longbridge: 3 hour session on Monday's, Wednesdays and Fridays.
Moseley Health and Fitness Centre Springfield Rd, Birmingham B13 9NP The Factory, 5 Devon Way, Birmingham B31 2TW
Sport Birmingham Fit Cap
Multi-sports group providing a wide programme of activities delivered by volunteers and qualified sports coaches. Wrap around care will be available until 5pm providing much needed support for in-work families.
Glebe Farm Football club: 10.00am till 3.00pm Hobmoor Oasis – 9.00am till 5.00pm
Glebe farm Football club Flaxley playing fields Multisport Hobmoor oasis Yardley Multi sport
Sport Birmingham – M.A.D
Offering multi-sports such as table tennis, boxing fitness, badminton and football along with other activities such as PS4 gaming, music recording and a safe place to relax and socialise.
The Hub Holford drive 10.00am till 3.000pm Nechells Community centre 11.00am till 4.00pm Long Nuke Community hall 11.00am till 2.00pm
The Hub Holford drive Perry Barr Nechells Community centre Nechells Rupert street Long Nuke Community hall Bartley green
Aspire Sports
Offering multi-sports, employability and personal development skills. Knife crime, drug and gang awareness. Young people will be able to attend all centres throughout the summer as we are providing bus passes to each learner. Opportunity to gain 1st 4sport Level 1 Award for Activators [Multi Skills] and 1st 4 Sport Mental Health Awareness for Sport and Physical Activity.
22nd July to 2nd August – St Edmund Campion 5th August to 16th August – Goals Perry Barr 12th August to 23rd August – Goals Star City Each centre will open from 10am and close at 3pm.
St Edmund Campion School Sutton Road Birmingham B23 5XA Goals Perry Barr Tameside Park Aldridge Road Birmingham B42 2UB Goals Star City Star City 100 Watson Road Birmingham B7 5SA
Erdington Rugby Club
Rugby followed by some football/cricket or rounders, then hot healthy food.
Every Tuesday, Wednesday & Thursday of the 6 week holiday starting 23rd July. 5.00pm – 8.00pm
Spring Lane Playing Fields Kingsbury Rd Erdington Birmingham B249NE
Pat Bensons Boxing
Boxing technique and skill development, boxing fitness, circuit and conditioning training, table tennis, team games and activities, boxing theory and Wii console.
Starting 22nd July – Finishing on 16th August Monday – Friday 10.00am-3.00pm
Pat Benson Boxing Academy. Unit 2, 50 Adderley Street, Digbeth, Birmingham, B9 4ED
Sport 4 Life
Providing activities such as Football, Playmakers, Multi-sports, interactive workshops and Sport Leaders Level 1. Free lunch every day and a group trip to location of young people's choice.
Aston provision: Time: 11.00am- 4.00pm (each day) Days of the week: Wednesday and Thursdays during Summer Holidays starting week beginning 22nd July Ladywood Provision: Time: 11.00am- 4.00pm (each day) Days of the week: Thursday and Fridays during Summer Holidays starting week beginning 22nd July Washwood Heath Provision: Time: 11.00am- 4.00pm Days of the week: Tuesday and Wednesday during Summer Holidays week beginning 22nd July.
Aston provision Location: Playfootball Birmingham Indoor 20 Great King St N, Birmingham B19 2LF Ladywood Provision Location: Playfootball Birmingham Indoor 20 Great King St N, Birmingham B19 2LF Washwood Heath Provision Location: Ward End Park, Birmingham B8 2XA
Naseby Youth Centre
Youth Club activities, cinema, horse riding, go-karting, ice skating, boxercise, rock climbing, seaside trip, trampoline park, paintballing and summer BBQ.
22nd July – 15th August 1.30pm – 5.30pm Exemptions: 22nd July: 2.30pm – 5.30pm 8th August: 8.00am – 9.00pm 14th August: 9.00 – 6.00pm
Naseby Youth Centre 102 Naseby Road, Alum Rock, Birmingham
Orion Training
Variety of sports and self-development using themes such as – Self-Awareness, Physical and Mental Wellbeing, Resilience , Pathways to Education
29th July – 23rd July 2019 Monday to Friday between 10.00am and 3.00pm
Orion Training and Development Corner of Dudley Rd and Wester Rd B18 7QB
Strike 9 training
Football, Netball, multi sports, Dance, food nutrition awareness. Snacks and lunch provided.
Monday – Friday, every week of the 6 week holidays 9.00am – 3.00pm
Moseley School sports centre, Springfield road, B13 9NP
Ackers
Three of the following instructed activities each day – skiing, climbing/abseiling, canoeing, kayaking, archery, bushcraft, disc golf and snow tubing. 14-18 year olds.
22nd July – 23rd August 9.30am – 3.30pm
Ackers Adventure Golden Hillock Road Sparkbrook Birmingham B11 2PY
Warwickshire Cricket Club
Street Cricket Camps offering a wide range of cricket activities, specialist coaching, 1 to 1 sessions, cricket games, Life workshops.
29th July – 16th August Monday to Friday 12.00pm – 3.00pm
Highcroft Community Centre 485 Slade Road, Erdington , Birmingham B23 7JG Ward End Park Washwood Heath Road, Ward End , Birmingham B8 2HB Broadway Community Centre The Broadway, Perry Barr, Birmingham B20 3DP
Coventry – Summer 2019
For More information about the ACTIVITIES in coventry please click here and here.

Coventry information is also online and available to be downloaded as an app to smartphones. Go to coventryyouthpartnership.org for more information.   To download as an app, go to the web page on the smart phone, save page to home screen and then it will save as an app.  
Black Country – Summer 2019
Activity
Local Authority
Details
Location
Tividale Academy
Sandwell
Football (all) Saturday Morning: 9.30am- 11.30am Football (all) Wednesday Evening: 6.00pm – 8.00pm Football Multisports /Mentoring & Personal Development: Friday evenings 6.00pm – 8.00pm
Portway Lifestyle Centre, Oldbury, B69 1HE Lion Farm Playing Fields, B69 1JD Ormiston, B69 1JD
Priory Park Boxing
Dudley
Activities include boxing, football, tennis (11.00am – 1.00pm and 6.00pm – 9.00pm )
Priory Park Boxing club, DY1 4EU
New Park Village
Wolverhampton
Our Lady's Saint Chads: Football and Multi-sports Monday – Friday 10.00am – 3.00pm Heath Town Park – 3 weeks: Monday – Friday 10.00am – 3.00pm
Our Lady's Saint Chads School, WV10 8BL Heath Town Park, WV10 0QE
In Power & Wolves Wrestling Club
Wolverhampton
Mixed Martial Arts including wrestling and boxing. 10.00am – 2.00pm 6.00pm – 8.00pm
202 – 204 Cannock Road Gurdwara, WV10 0AP Park Village Education Centre, WV10 0RA
Black Country Wellbeing Hub
Dudley
Martial arts, Boxing, Football, Cricket, & Dodgeball Monday – Thursday 12.00 – 4.30pm
Vale Street, Upper Gornal, Dudley, DY3 3XD
Bensons Community Project
Sandwell
Multisport, Football, Cricket, Dodgeball and Cycling. Monday – Friday: 11.00am – 7.00pm Saturday and Sunday: 2.00pm – 4.00pm
Hadley Stadium, B66 4ND Lightwoods Park, B69 5NA
Inspire Foundation
Walsall
Multisport activities. Monday – Friday 9.30am – 8.00pm
Clayhanger Community Centre, WS8 7EG
Bloxwich Community Partnership & Youth Connect
Walsall
12 Outreach sports sessions in parks around Walsall, 6 sport-based sessions in leisure centre or youth centres in Bloxwich, Community Sports Day. Monday – Friday 3.00pm – 8.00pm
Blakenhall Centre, WS3 1LW & Outreach