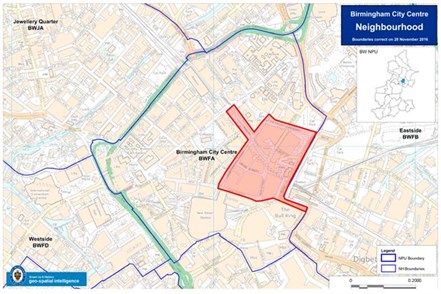 Authorised by ACC Johnson
Reason;
An incident of disorder occurred in Dale End in Birmingham City Centre. During the disorder, three males were stabbed. All three have been admitted to hospital. Two of the males have been discharged but one remains in hospital.
This incident caused a large gathering of youths to congregate in what is already a well-populated location as it is the main arterial bus route for school children in and out of the city.
Local resources were unable to deal with the demand this incident created resulting in resources from Operation Pelkin being redeployed to assist regain control.
At this stage, the investigation is on-going to identify and arrest the main culprits. Our working hypothesis at this stage is that rival groups from colleges around the region have clashed. The reasons at this stage are unknown.
There is precedent for this kind of disorder. On 30th January 2018 there was a disorder where hammers and knives were used. Log 2065 30/1/18 refers. Officers were injured in the course of this and the problem continued to play out over several days.
We observed that there were a core of students and others who were actively looking to start trouble, surrounded by a larger, variable group of youths. These were a mixture from the various educational establishments. We used dispersal powers and increased policing presence, but not to sufficient numbers, which meant we at first were just displacing the problem around the town centre. Eventually, given the threat posed by youths with bladed articles and other weapons, we used a S.60 search power. In addition to this, we drew in staff from the colleges to act as spotters. This had a threefold impact
It discouraged the "hangers on" who would otherwise cause us problems and distract us from the core groups
We identified individuals, who could then be dealt with through criminal justice, local school action, or both
We sent a clear message through the colleges that the on-going issues were being taken seriously and that there would be serious consequences
This approach suppressed and resolved the disorders almost immediately. Given the similar nature of this disorder, the fact that CCTV shows that we are dealing with students from Sutton and Solihull colleges predominantly, and the seriousness of the originating incident we wish to move as quickly as possible to a tactic that we believe will be effective in suppressing further disorder, as well as giving staff on the ground the tools to identify and deal with individuals carrying weapons.
Objectives
Prevent further disorder
Identify suspects/witnesses
Remove weapons from circulation, deal proportionately with offenders
Maintain trust and confidence of the community
Return the area to a state of normality
Approach
NPU will provide overt uniform staff to police the location during the identified risk periods
College staff will support with identifying youths of interest, dissuading others from getting involved
Additional Force Assets have been allocated via Mission Support to effectively deliver the plan and maximise the impact of police action
A dispersal order in also in place (Maps attached)
Officer in Charge – CI Paul Ditta
Result
4 searches carried out – one arrest for handling stolen goods
5 youths dispersed under parallel power
Weapons recovered outside of the area believed linked to previous or future planned disorders (Recovered from Millenium Point)