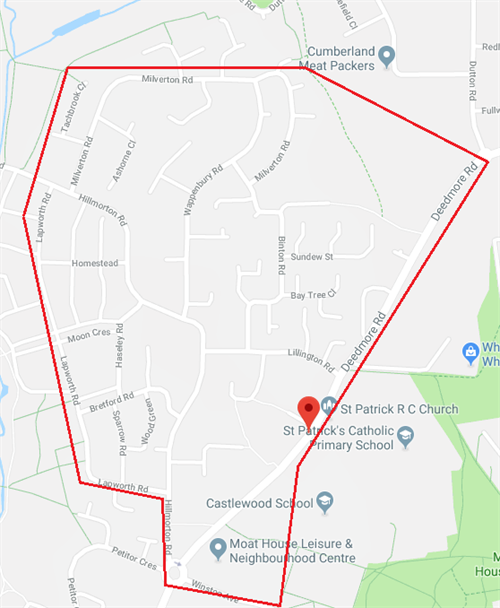 Time, Date and Duration of Authority to Search
19.00hrs on the 26/11/18 until 0300hrs on the 27/11/18
Area covered by Authority (Please attach any relevant maps)
The area outlined below is limited to specific frequented streets in the heart of the estate. It covers 3 main arterial routes on the estate, namely Deedmore Rd, Hilmorton Rd and Lapworth Rd.
Details of Authorising Officer
G CANN, ACC (7599)
Reason for Authority (Brief Summary for Publication)
As a result of incidents of serious violence in the Henley area of Coventry, an authority under Section 60 of the Criminal Justice and Public order Act 1994 has been authorised. Just after midnight on the 24th November 2018 Two males attended A&E at UHCW with wounds to their hands and legs. The offence location was given as Broadpark Road, Coventry. Later that same a day at about 23.40hrs there was a call from Ambulance stating a 16 year old male was stabbed to the chest with major bleeding at Deedmore Road, near to St Patricks School. Two other males were also stabbed to the leg with less serious injuries. The more seriously injured male subsequently died from his injuries. Both of these incidents have occurred on the estate and tensions are running high with young people and community.
Details of OIC (for contact or enquiries)
Supt HEALY (5892)
After the Authorised Period
Number of Stop/Searches Carried Out Under the Authority
9
Outcomes of those Stop/Searches
9 x NFA